They are studying mechatronics in the Faculty of Mechanical Engineering, at Budapest University of Technology and Economics in Hungary. Four classmates made a team, and to achieve their goal to win a WRO ARC category, they started practice from March 2017. They practiced during class and club activity, for up to 14 hours a day.
InnoRobot-X consists of the coach, and three members who take charge of system design, coding, and building.
Even though each member has their own role in the team, they focus on team work, by sharing ideas and working together.
Website of Budapest University of Technology and Economics
https://www.gpk.bme.hu/English/
The rules of the ARC category had changed completely compared to last year. The challenge of the ARC this year was a robot version of the TetrisR game. Teams competed by creating a robot to stack colored blocks called tetracubes within a rectangular upright box, aiming for the highest score.
"The most difficult part was piling up tetracubes," they said.
They failed over and over again, but through trial and error were able to overcome this challenge.
At the WRO International Final 2017 in Costa Rica, each team could challenge 5 times over 2 days. Their final score was the total of their best score from the first and second day.
On the day of the competition, in the qualifying matches (in which the robot has 3 minutes), they targeted 3 prepared cubes, which were on the line of the delivery chute, and another3 which were slid on the ramp. One by one, they succeeded in accurately building 3 rows of these 6 cubes with their program.
In the final matches (in which the robot has 5 minutes), their robot grabbed the cubes which were set in 4x4 bundles, and made 4 rows at first, and then placed 3 other rows on top, to successfully complete 7 rows. They said they had a lot of trouble when practicing, because the cubes became unstable if they piled them up in 7 rows.
Their efforts were rewarded. InnoRobot-X got 2nd place!
In the past, the team members participated in other robot competitions separately, but they wanted a place they could develop themselves and face a challenge, so they decided to make a team and participate in WRO this year for the first time.
"In WRO, we can learn not only the knowledge of engineering, but also a lot of things, for example, task management. The hardest part of this project was to find sponsors, but we could learn a lot and enjoy this challenge very much," they said.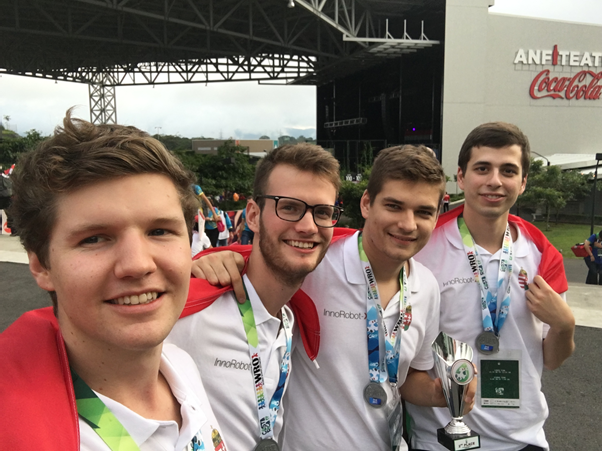 The promotion movie of InnoRobot-X
This movie influenced eight companies in Hungary to be the sponsor of their team for supporting their activities. The sponsorship money is spent on their activities, and the travel expenses to the International Final in Costa Rica.
Their goals for the future are first to complete their thesis and graduate with bachelor degrees, and then enter graduate school. They said, "We are satisfied with the result of this year, 2nd place, but we would like to challenge at the WRO again next year and win a gold medal." They are already anticipating next year's WRO competition.